Welcome
***Rescue Updates***
Many of you know we have recently taken in a new rescue "Marvel" and we are giving her the care and love she needs. Just today we have also taken ownership of another horse with a body score of 1 and a case of Strangles- because of his Strangles (a bacterial infection that can be dangerous to old and young horses) we cannot bring him home yet so we are traveling to him twice daily to feed and care for him. He is lucky to have two other humans with a heart who are also visiting him two more times each day.
Each rescue we care for takes valuable time and monetary resources. We have the volunteer time but we need more financial support to help these horses and more like them.
Our newest rescues have each had a vet visit ($100 each) and Marvel had her feet trimmed ($35) and both are getting supplements ($30/mo) to help rebuild their immune system. Both will need their teeth floated once they are strong enough ($100 ea)- expenses of caring for a rescue horse in the first year can exceed $2500.
Please share Marvel and Pi's story and photos. Every dollar helps and all of your donations are tax deductible.

***Please Scroll Down to See Photos of Marvel and Pi***
___________________________________________
Get Out of the House this Winter and Onto a HORSE...



Join us in our INDOOR RIDING ARENA

Riding Lessons for new riders, returning riders, families and Horsemanship Clinics open to the public.

Learning to ride builds confidence, self esteem, work ethic
and physical strength.


Gift certificates can be used for lessons, clinics and camps.

Now is the time to Register for Camp Confidence- the BEST Horse Camp in Wisconsin/ Minnesota.
Horse camp for ages 7 & up. Mini Horse Camp is 3 days/ 2 nights and Weeklong Horse Camp is 5 days/4 nights. Sign up for multiple weeks and attend a weekend Horse Show with the Lost Creek Ranch Show Team!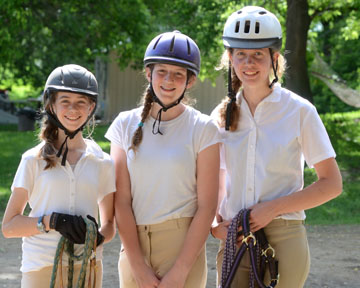 Contact us today 715.273.6070 lostcreeek@wildblue.net
__________________________________________________
March Events at the Ranch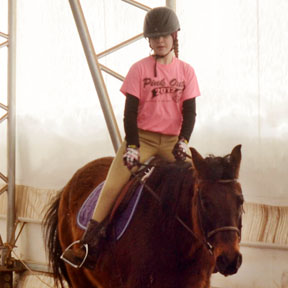 (download PDF of MARCH calendar HERE)
We are hopeful that Spring will finally come! Mark your calendar for our Intro to Show Clinic for all ages on Saturday March 15th ($65), Lynette's Spring Tune Up Clinic Sunday March 23rd ($85) and our Spring Schooling FUN Show Saturday March 29th ($35).

_____________________________________________
Howdy, from Lost Creek Ranch!!! If you have a love for horses and nature this is the place to be. We offer lessons, training, and leasing. Here at Lost Creek Ranch you will experience lots of TLC for the horses and family. Lost Creek Ranch offers a large outdoor arena, a bright indoor arena with lots of natural light, round pen, large paddocks, barn with new stalls and heated lounge. Shelter is provided in all of our turn out areas. Our annual CAMP CONFIDENCE overnight kids horse camps starts the second week in June, with ongoing sessions through out the summer. It's always a favorite among the kids and parents! The children stay in our bunkhouse and have their own horse for the week they're here. At the end of every camp session we put on a horse show for family and friends to show what we have accomplished together.
We are an official 501(c) non-profit organization as of November 2009. Visit our Sponsor a Horse or Child page for more information on this wonderful opportunity to help horses and children who could benefit from your gift of kindness. Many of our kids' lesson and camp horses were either rescued, given to us in hopes of providing them a more fulfilling life, or else given to us simply because they were no longer wanted. Some are seniors who require special diets and/or supplements and more frequent dental care. Others have certain medical, joint and/or hoof issues that also require specialized diets, supplements and frequent appointments with the farrier. Your donations and sponsorships help us meet all their individual needs. Thank you very much to everyone who has donated in the past!
Open Everyday: We welcome visitors! If you would like to watch lessons or get a tour of the ranch call ahead and we will have someone ready to show you around and introduce you to the herd.

Sign up to be on our mailing list
____________________________________________________________________
Rescue Story
Your donation will help horses like Marvel who joined our herd in February 2014. Check the Rescue for updates on her progress and more photos.
Marvel (Marvelous Maggie) joined our herd recently- she is 24 and although boarded at "nice" facility locally she was starved while the other horses were fed. We are fortunate that a concerned person was able to help rescue her and her companion (who she now owns and has moved to a safe barn). Her body score when she arrived was 2. Marvel is sweet and quiet and seems especially interested in little kids making us think that in her long life there must have been at lease one special little girl who loved her. Now she will have many girls to love her and live out a happy life in her new forever home at Lost Creek Ranch.
A special thanks to everyone who supports the ranch through weekly lessons, leases and attending camps and clinics. Without you we couldn't help horses like Marvel.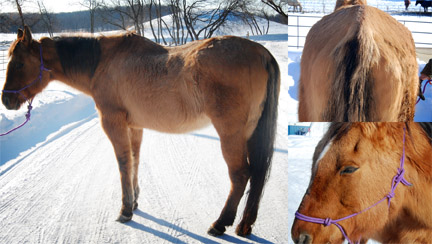 Marvel has a bright future thanks to your support. Send Marvell's story to your friends and family- the more support we have the more horses we can rescue.
Meet Pi
Pi is a sweet 21 year old Arabian who needs your help. The vet put his body score at 1 and on top of that he has Strangles. Because of his Strangles we are not able to bring him home to the ranch yet but are caring for him daily and he is getting care from helpers at his current barn too.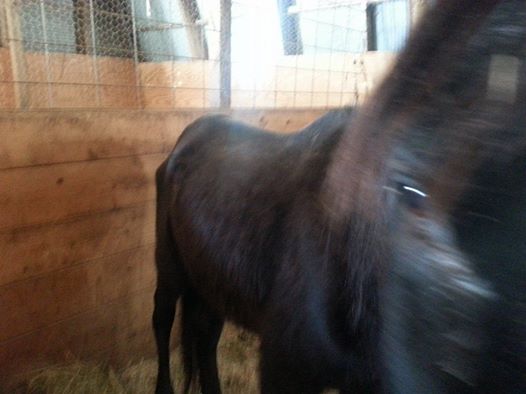 This is best picture we have for now- you can clearly see his body condition. We are hopeful his spirit and constant care can help him pull through and come to his forever home at Lost Creek Ranch.

Lost Creek Ranch Camp Confidence earned its 501(c)3 non profit status in 2009 and we are proud to be a widely respected horse rescue that takes in horses of all ages and physical conditions, gets them the proper vet care, nutrition and the farrier work they need then once they are healthy trains them for a job they will love at the ranch- their new home. Our herd is kept fit and healthy by being ridden and worked with in our many programs from lessons to camps- even our oldest seniors love to work with the littlest riders or timid beginners. The younger horses get a new start in life with training and our UWRF interns learn new skills and develop the patience required to be effective with horses.
It all comes full circle here at Lost Creek Ranch!
Have you always wanted to learn to ride horses? This is the place for you! Riding instruction,the best horse riding lessons in Wisconsin, near the Minnesota border. Horseback riding lessons WI, MN for kids and adults: western riding lessons WI, MN, English riding lessons WI, MN and the best Horse Camp in WI, MN. Learn to ride horses at Lost Creek Ranch! Horseback riding lessons near the Twin Cities, MN, Stillwater, MN and Hudson, WI. Western horse riding lessons, English horse riding lessons, Western Dressage Training and riding lessons.