We Welcome Riders

of all ages and disciplines interested in real honest Horsemanship
December 2016 Calendar
December Calendar HERE
*****
NEW for Winter: Friday Night Games and Obstacle Fun
5:006:30 JUST $25 for current students (must pre register)
How to Dress for Winter Riding- click here to see the must haves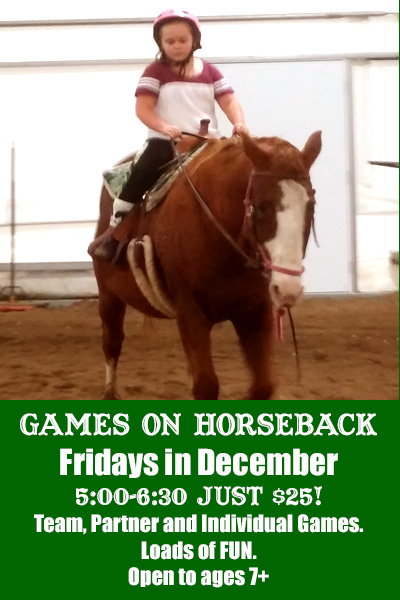 ______________________________

Overnight Winter Horse Camp

December 27-29th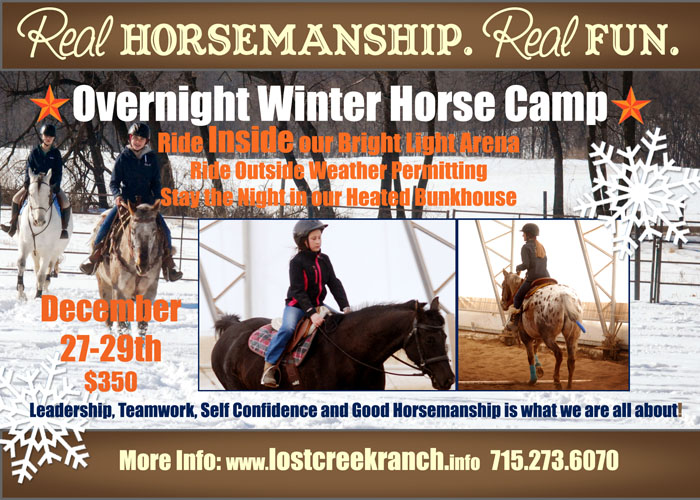 December 27th- 29th $350.
Check in Tuesday a.m. Ride twice Tuesday, Wednesday and once on Thursday. Ride inside the arena and outside weather permitting. Bonfires, movies and a nice warm bunkhouse at the end of the day!
Print Registration here.
Print Winter Packing List Here.
___________________________________________
World Show Success!
Congrats to Lynette Weldon and Boo on their Reserve Championship and multiple Top Ten finishes. Hanna Sumption is a two time World Reserve Champion Rider and six (!) Top Ten finishes on Bella and Hottie and Sophia and Benny on their 6th place finish and Jenn and Jimmy joined us all the way from South Caroline to take top honors in the para classes - congrats to everyone!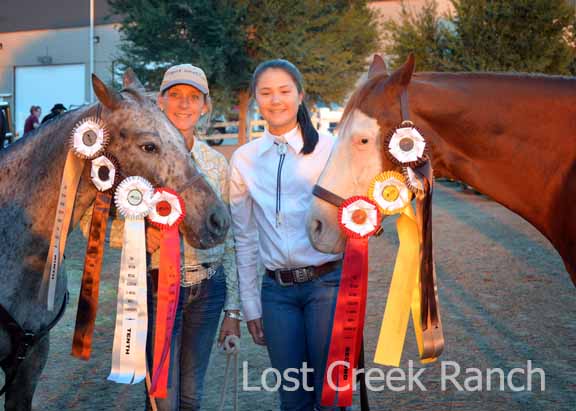 Hanna (13) started riding at Lost Creek Ranch when she was 9 years old. She lives in Virginia with her mom and dad but spends summers in River Falls , WI with her grandma and rides 5 days/ week at Lost Creek Ranch. She shows two horses owned by Lynette Weldon: Hottie and Bella in Western Dressage, Ranch Riding and Reining. We are very proud of her work ethic, ability to focus and positive attitude that lead to her two Reserve World Championships and multiple Top Ten finishes at Western Dressage World Show in Guthrie, OK.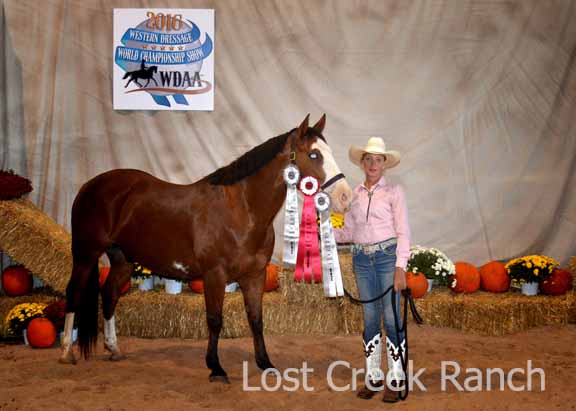 Lynette Weldon and Boo, Reserve Open Champions and two Top Ten finishes. Lynette started Boo as a three year old and has shown him in Western Dressage with an average score of 69% and finished 7th place overall at Worlds against all of the top trainers.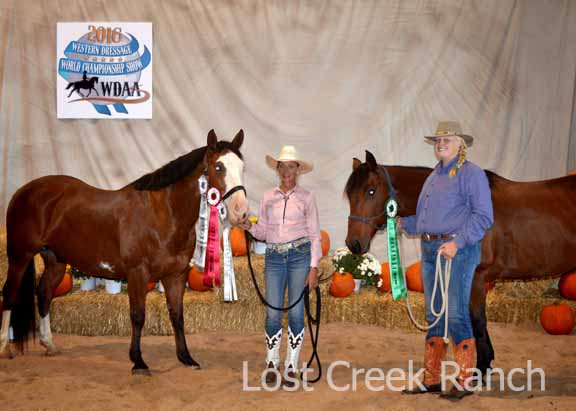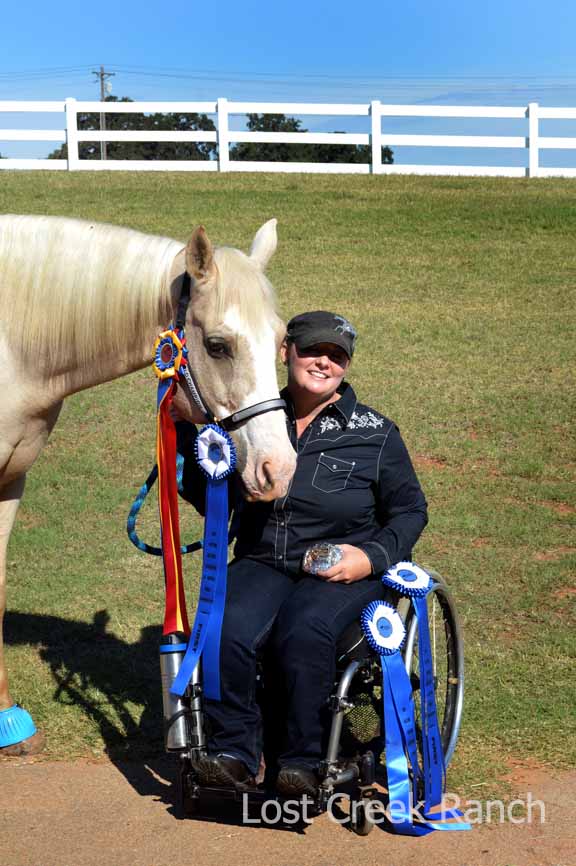 ______________________________________________________________
Hold onto your helmets! Fall is here and we are PACKED with activities for everyone to enjoy! Starting with the return of Pizza Nights on Fridays but this year we are adding DRILL TEAM to our Friday night fun, select Saturdays join us for Youth Horsemanship from 11-3:00pm (ages 7 & up, all riding levels welcome).
Plan Ahead for our Spooktacular Schooling Show Sat.. Oct. 28th!
(sign up sheet in barn- full size showbill HERE)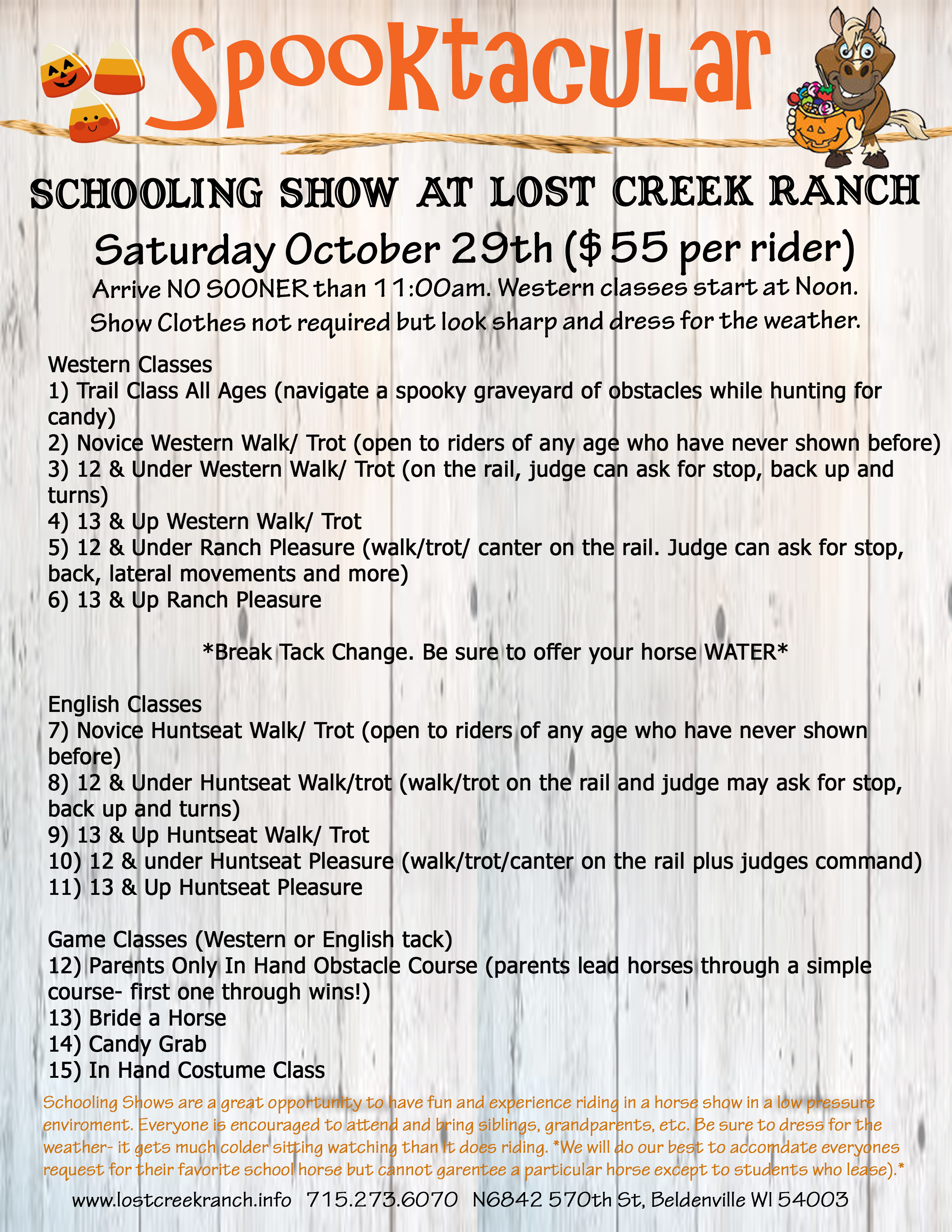 Plan Ahead for our Youth Horsemanship Clinic with Lynette Weldon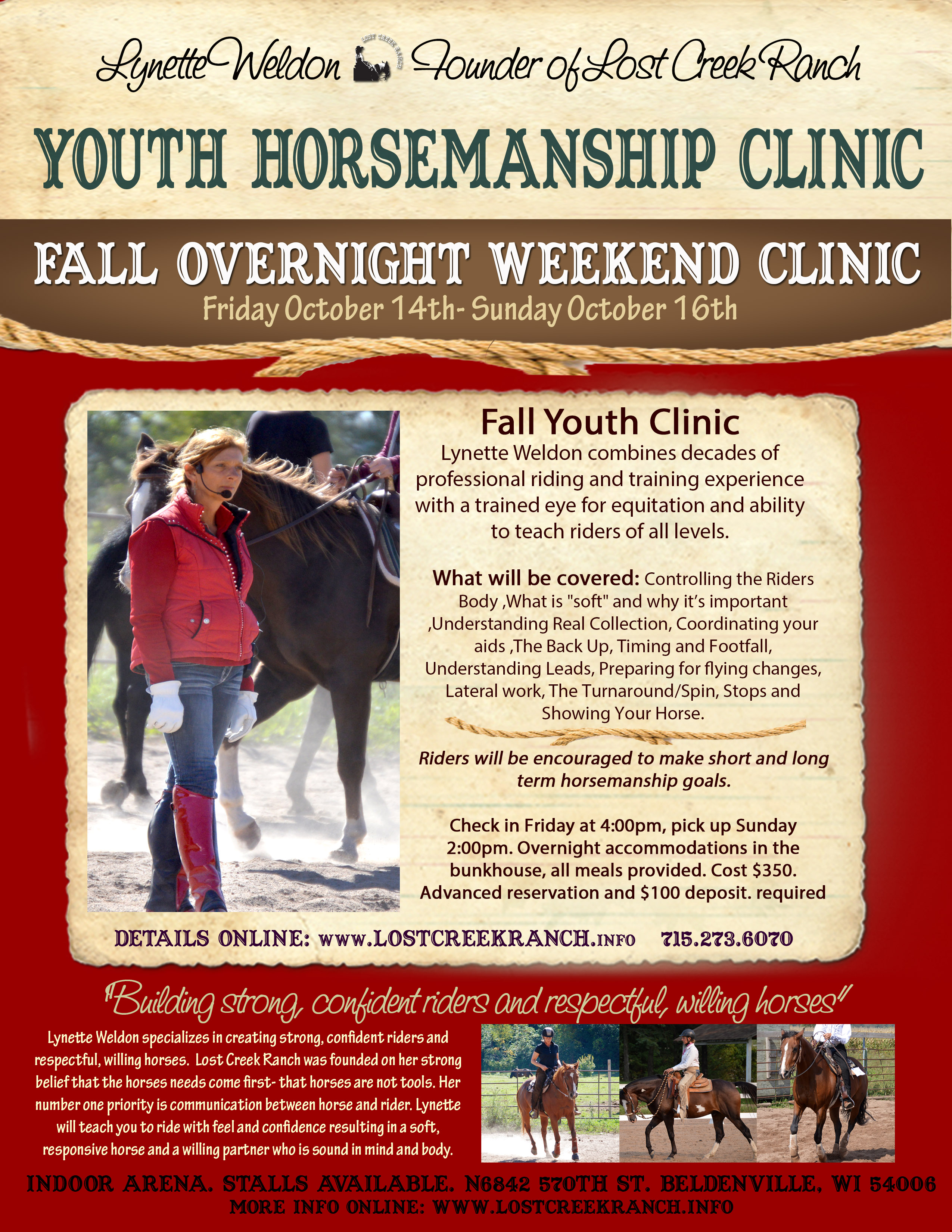 After School Saddle Club (open to ages 8 & up).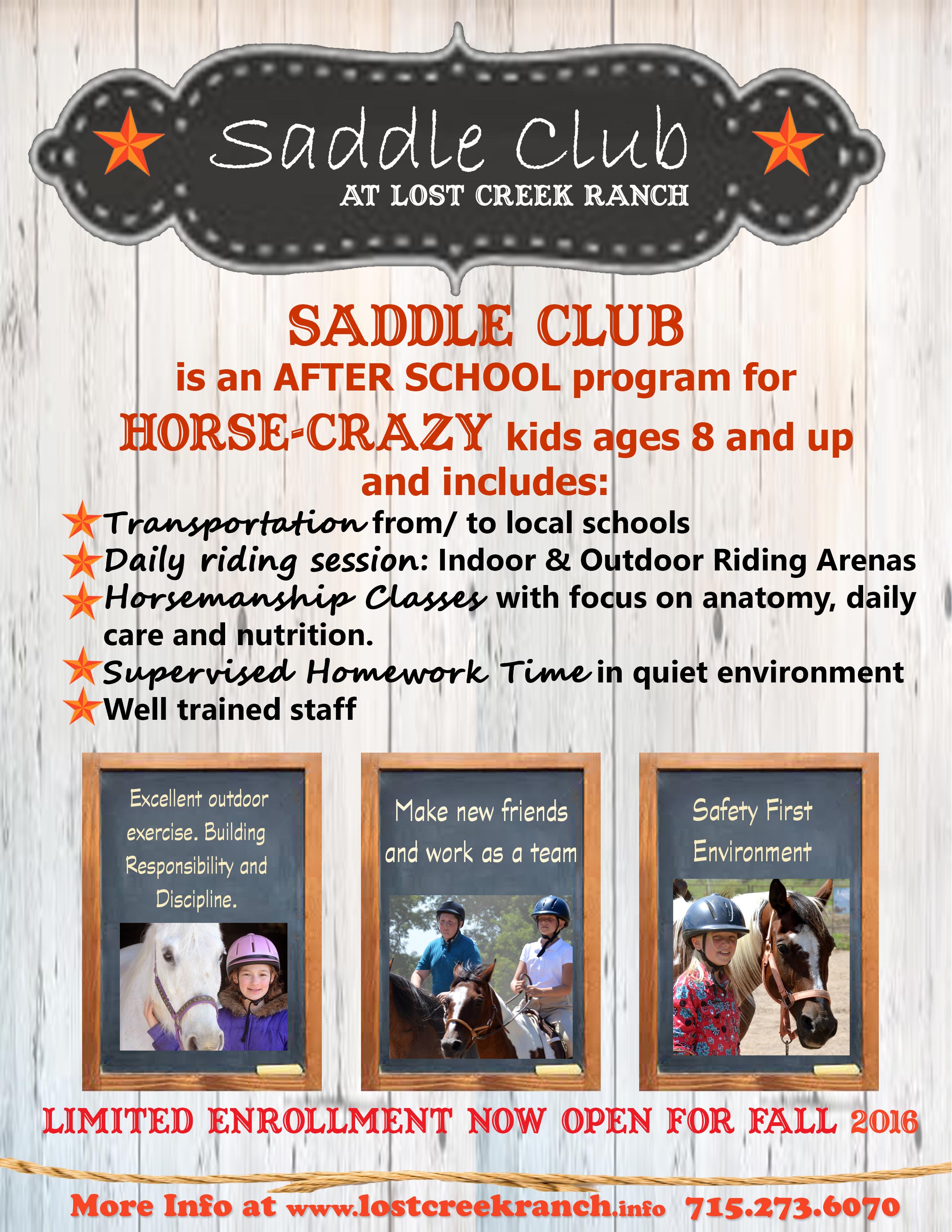 ________________________________________________


Continued Success for our Adult and Youth Show Team Riders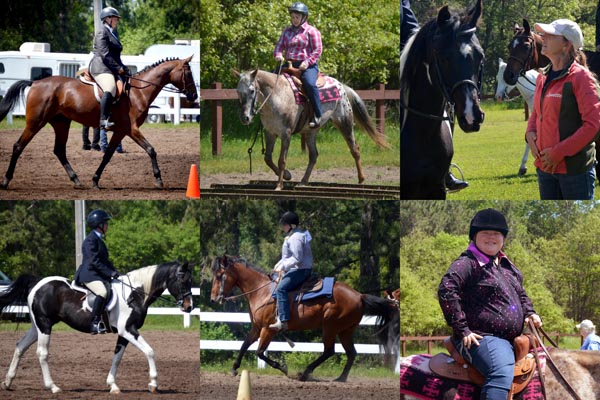 The Adult Show Team included Ruth on Elizabeth, Cari on Hottie, Vicky on Stryker, Sophia on Bennie and Jordan on Hottie showing in English and Western Pleasure and Trail Class.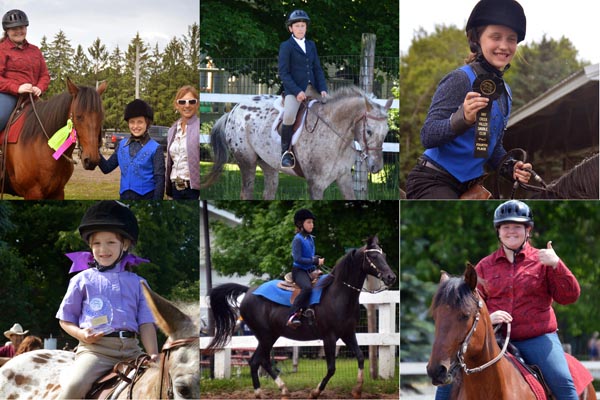 Our Youth Team brought home many ribbons including Anna's very first First Place trophy.
_____________________________________
First Show of the Season for our Youth Team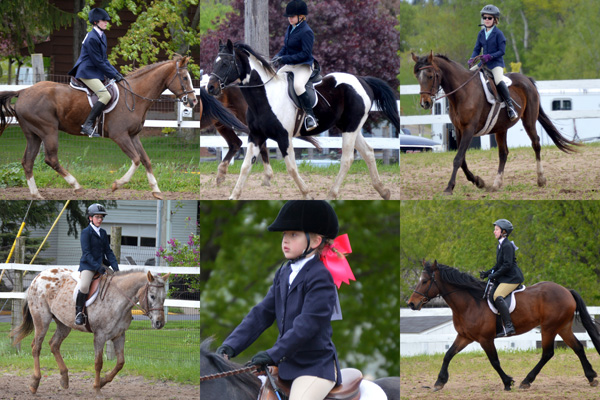 Seven riders toughed out a really cold day (34 degrees!) and put in excellent performances! Ruby (11) in her first show on Hottie and first year in the 11-13 age group won first place in everything: English Pleasure, English Equitation, Western Pleasure and Western Horsemanship. Cassi and Finney were close behind with a second in English Pleasure and English Equitation. Eva and Nickers in their very first outing won first place in English walk/trot pleasure and equitation. Our Peewee (1o & under team) of Macy and Abbie did an excellent job and brought home 4th and 5th places. Wisty and Stryker pulled a 2nd place in a big class!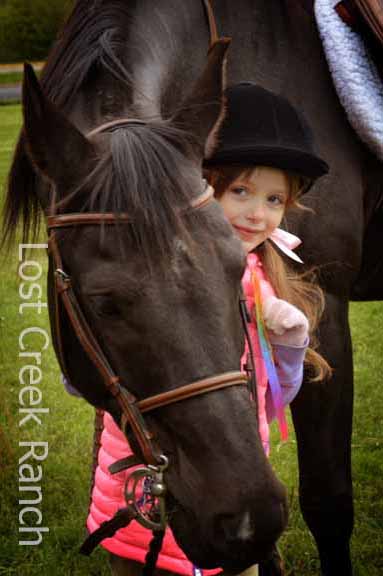 Special congrats to Ana who was first place in lead line equitation and looks forward to riding on her own one day in a show!
_____________________________________
Congrats to our Adult Show Team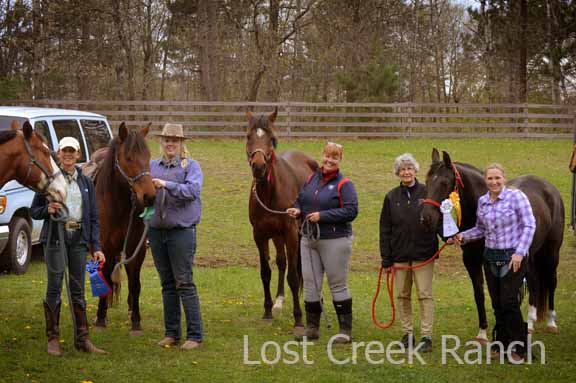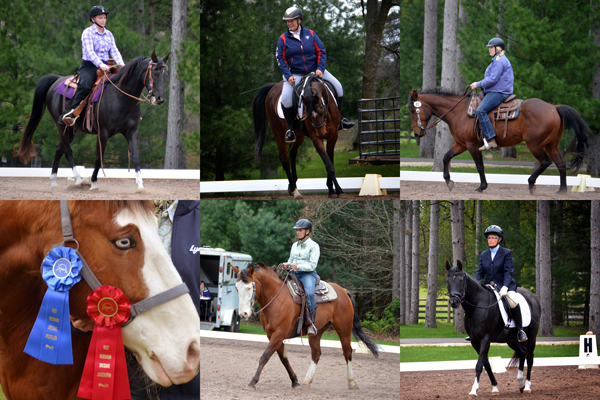 On their first Dressage show of the season. It was Vicky's very first show ever and she and Mickey earned two 2nd place ribbons and positive comments from the judge. Ruth showed her mare Elizabeth and had a challenging ride but some good moments and another second place ribbon. Our Western Dressage riders made a good showing with Shanna and Mickey placing 3rd and 4th and Sophia on Benny bringing their scores up 10pts from last season for a 5th and 6th place. Lynette and Boo had an excellent show and were SR Highpoint of the entire show with her first and second place ribbons!
__________________________________________________
Congrats to Jenn & Jimmy
On your success at the
Western Dressage World Championship Show
in Tulsa, OK.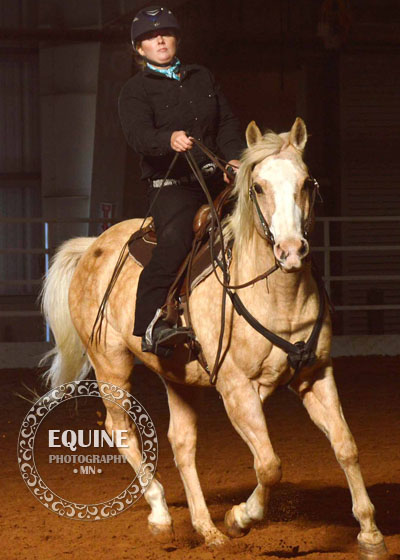 Jennifer on her gelding Jimmy competed in four classes against all able bodied riders and finished in the top half of over 50 riders every time. She and her Western Dressage Trainer Lynette Weldon of Lost Creek Ranch also were interviewed about what it takes for para rider to compete at the world level. Jenn is hoping that next year they will offer para classes.
Do you want to learn more about Western Dressage? Lost Creek Ranch offers Western Dressage Clinics in Wisconsin and Minnesota where you can be introduced to this exciting new discipline. See our
clinics page
to learn more.
(below: Jenn and trainer Lynette Weldon in a warm up session)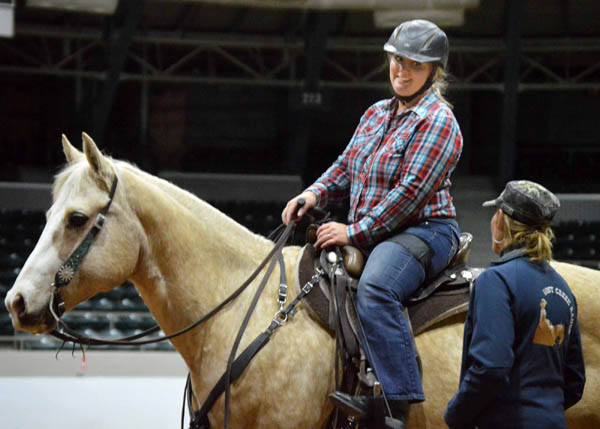 ____________________________________________
Howdy, from Lost Creek Ranch!!! If you have a love for horses and nature this is the place to be. We offer lessons, training, and leasing. Here at Lost Creek Ranch you will experience lots of TLC for the horses and family. Lost Creek Ranch offers a large outdoor arena, a bright indoor arena with lots of natural light, round pen, large paddocks, barn with new stalls and heated lounge. Shelter is provided in all of our turn out areas. Our annual CAMP CONFIDENCE overnight kids horse camps starts the second week in June, with ongoing sessions through out the summer. It's always a favorite among the kids and parents! The children stay in our bunkhouse and have their own horse for the week they're here. At the end of every camp session we put on a horse show for family and friends to show what we have accomplished together.
We are an official 501(c) non-profit organization as of November 2009. Visit our Sponsor a Horse or Child page for more information on this wonderful opportunity to help horses and children who could benefit from your gift of kindness. Many of our kids' lesson and camp horses were either rescued, given to us in hopes of providing them a more fulfilling life, or else given to us simply because they were no longer wanted. Some are seniors who require special diets and/or supplements and more frequent dental care. Others have certain medical, joint and/or hoof issues that also require specialized diets, supplements and frequent appointments with the farrier. Your donations and sponsorships help us meet all their individual needs. Thank you very much to everyone who has donated in the past!
Open Everyday: We welcome visitors! If you would like to watch lessons or get a tour of the ranch call ahead and we will have someone ready to show you around and introduce you to the herd.

Sign up to be on our mailing list
____________________________________________________________________
Congrats to the Lost Creek Ranch Dressage Team
Six show team members and six horses competed in Dog Days Dressage at the Washington County Fairgrounds. Josalin and Roulette debuted at First Level while Ruby and Kaiden showed at Intro and Training Level. Ruby was proud to win 3 ribbons in competitive classes of all ages! Our Western Dressage riders put in excellent rides all earning ribbons with Hanna brining home a first in her walk/trot test with Boo (and being the only youth rider against adults)! Lynette and Axel settled in for a solid ride and second place and Sophia and Benny also had winning rides.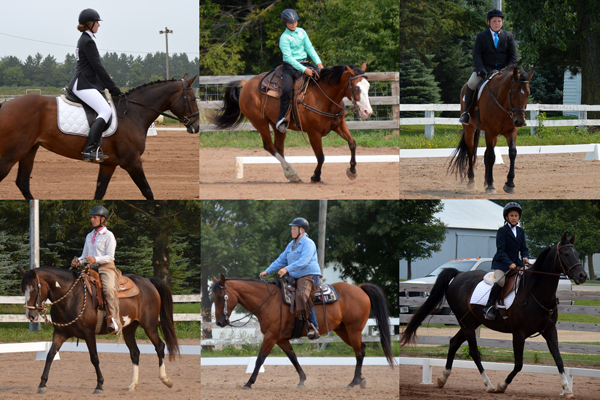 We always look forward to dressage and western dressage shows. Dressage is an excellent sport for riders who love to learn and have fun. If you would like to know more come visit us and talk to Lynette or Ruth to get started- we have English and Western
horses available for lease
.
Your donations make a difference in the lives of horses and youth in our community and beyond. We thank you for considering making a tax deductible donation.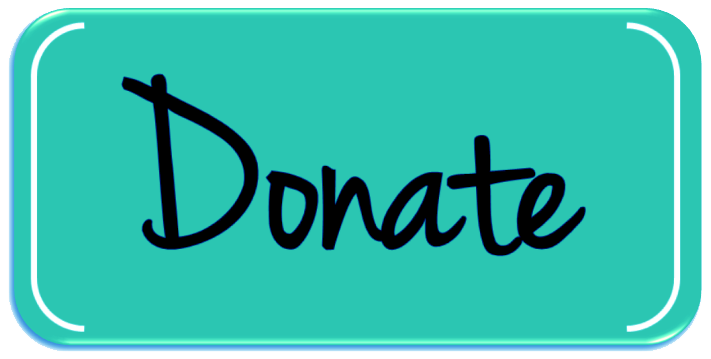 Lost Creek Ranch Camp Confidence earned its 501(c)3 non profit status in 2009 and we are proud to be a widely respected horse rescue that takes in horses of all ages and physical conditions, gets them the proper vet care, nutrition and the farrier work they need then once they are healthy trains them for a job they will love at the ranch- their new home. Our herd is kept fit and healthy by being ridden and worked with in our many programs from lessons to camps- even our oldest seniors love to work with the littlest riders or timid beginners. The younger horses get a new start in life with training and our UWRF interns learn new skills and develop the patience required to be effective with horses.
It all comes full circle here at Lost Creek Ranch!
Have you always wanted to learn to ride horses? This is the place for you! Riding instruction,the best horse riding lessons in Wisconsin, near the Minnesota border. Horseback riding lessons WI, MN for kids and adults: western riding lessons WI, MN, English riding lessons WI, MN and the best Horse Camp in WI, MN. Learn to ride horses at Lost Creek Ranch! Horseback riding lessons near the Twin Cities, MN, Stillwater, MN and Hudson, WI. Western horse riding lessons, English horse riding lessons, Western Dressage Training and riding lessons.